New Isolation area is now open
Our new and modern isolation area is now open, and we would like to share a few photos and some information with you.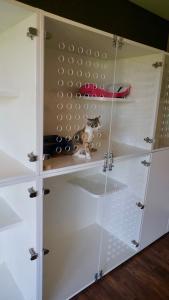 The Isolation area is an option if a cat arrives and is vaccinated, but proof has been left at home, and your vet is not possible to reach, the cat would then be able to stay in isolation until proof can be received from your vet, after proof is received the cat can then be moved to the main Cattery.
The Isolation area is also an option for cats or kittens in which their vaccine was recently given and adequate time has not passed to allow the vaccine to work.  As well part of the isolation area Is reserved in the case a cat should become ill while staying with us.

Please note:
For a cat that is not vaccinated, under-vaccinated (Booster missing) or received a vaccine, but is not past the Standdown Period of 10 days. An extra fee of $5 per cat will apply.
https://www.petvilla.co.nz/wp-content/uploads/2018/03/intro2.jpg
204
204
Frank Simon
/wp-content/uploads/2017/11/petvilla-logo.png
Frank Simon
2017-03-23 20:27:11
2022-04-19 09:51:02
New Isolation area is now open